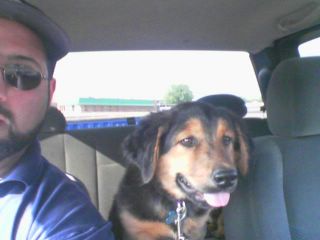 Me and Dad on the way to the vet.
Dad, Samantha and I had to go back to the vet on Saturday. I really enjoyed the ride over. Me and Sam jumped in the back seat but we could barely see out the windows. I decided to try to go back up front but my body's still too short to bridge the gap. I ended up standing with my back feet on the edge of the seat and my front paws on the center console. That's what I'm doing in the picture. It was great to ride there because I could see lots of stuff and dad talked to me like we were best buds.
When we got there, the doctor said I had gained
seven
pounds in the last three weeks! I'm getting to be a big boy now.
After we got home, Samantha's new mom came and got her. But JD and I are still together and we're having as much fun as ever!
Until next time...